Cut your cloud bill in half
with fast and predictable K8s automation
Cut costs in minutes with autoscaling, right sizing, and spot instance automation with Artificial Intelligence
Start monitoring now.
Pick your plan later.
All CloudMix plans are free for 30 days.
No credit card required. Install in minutes.
Always-free plan
1 cluster, no size limit
15-day metric retention
Cost monitoring & allocation
Cost savings insights
Outage risk assessment
Everything in Free, plus
Unlimited clusters monitored
30-day metric retention
Saved reports
Team updates & notifications
Business support
Everything in Grow, plus
Unified multi-cluster view
Unlimited metric retention
Custom integrations
SSO / SAML
Dedicated enterprise support

Instant rebalancing
Bring your cluster to an optimized state automatically and enjoy improved performance at a far lower cost.

Full cost visibility
You can analyze and forecast expenses for projects, clusters, and deployments.

What you see is what you get
The AI reports show you the exact savings you can realistically get for your cluster.

A real-time engine
The platform adds or removes resources as soon as they become necessary to ensure the best performance of your workloads.

Affordable scalability
The AI lets you flexibly scale your infrastructure up and down as needed.

AI-driven instance selection
Whenever your cluster needs extra nodes, our algorithm chooses the best instance type.

No vendor lock-in
The platform is vendor-neutral, so it selects the optimal solution for your cluster without forcing you into long-term commitments.

Dedicated onboarding
Get personalized support from our engineers and smoothly onboard your Kubernetes infrastructure.

Live support
A real human support engineer is here to answer your questions.
End Those Massive Cloud Bills! Learn How to Cut 50%+ Automatically.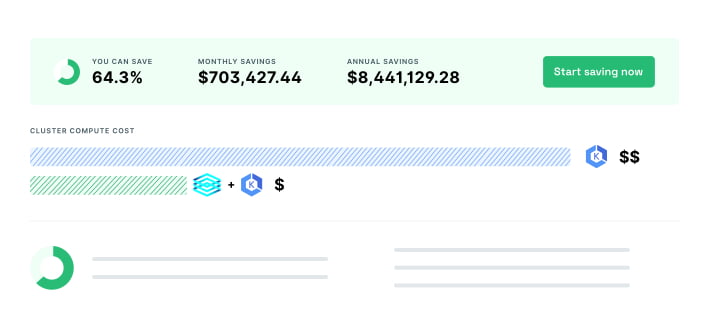 Optimize cloud costs in minutes
Analyze your Kubernetes cluster and get a custom savings report. See how much you could be saving already and optimize your cloud setup automatically. 5 minutes – that's all it takes!